Onion growers in the Treasure Valley, which incorporates southwestern Idaho and eastern Oregon, are looking to technology to help them overcome current challenges in the industry. Labor and transportation costs, among other things, are contributing to a tightening of profit margins.
Recently it was announced that two major onion companies had joined forces to form Baker & Murakami. Part of the reason for this merger was the need for modernization. The companies decided to combine their resources and invest in automation, and last year, opened their new state-of-the-art onion packing line.
An essential element of this new packing line was a brand new high-tech onion grader, supplied by Ellips USA and powered by their TrueSort grading software. "For Baker & Murakami, we supplied an 8 lane, 22 exit Elisam Gran Torino onion grader equipped with Ellips' TrueSort grading technology," said John Albert, GM of Ellips' US operation. "In addition to the electronic grader, our solution includes in-feed conveyance (for optimal onion distribution, singulation and cup fill), return conveyance systems, quality inspection system, catwalks/handrails and all electronics & control systems."
TrueSort uses the latest technology to assess external and internal onion quality in extreme detail and subsequently performs an accepted/rejected calculation completely automatically. "Ellips' TrueSort grading solution utilizes extremely high definition cameras that work in color and near infrared (NIR) spectrums in order to accurately assess size, color and external quality," Albert continued. "TrueSort also provides a unique internal quality solution that enables our customers to accurately detect internal rot (ring, core or neck) and other internal abnormalities."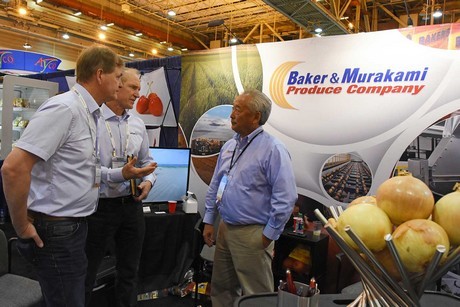 Baker & Murakami project – planning to installation

Unsurprisingly, the work required for a project the size of Baker & Murakami's packing line took more than a year to plan. Working closely with Baker & Murakami, as well as other companies working on the project, Ellips ensured that all possible factors were considered.
"The actual installation of our equipment took approximately 4 weeks, however, the design portion of the project began more than one year earlier," Albert recalled. "This design and planning stage is critical since it will help ensure that the customer's operating requirements and objectives will be met. Objectives and requirements associated with capacity/throughput, grading & sorting criteria, packaging, facility layout, environmental concerns & system integration must all be thoroughly considered."
"Each customer has unique requirements, objectives, constraints and opportunities all of which can affect the specific size, layout and functionality of our solution," he explained. "Therefore, all of our grading systems have similarities, however, no two systems are identical. Our customer's facilities, volumes and grading & packing requirements can significantly alter the configuration, capacity and functionality of the solution. Additionally, we often supply turnkey solutions that would include peripheral equipment utilized for bin filling & handling, carton & bag filling and handling and palletizing."
"Grading capacity is typically dictated by the number of lanes on the grader, as well as the ability to deliver an optimal cup fill percentage," he continued. "Our distribution and singulation techniques combined with the speed of our grader enable to deliver higher volumes per hour than any of the competitors. Elisam provides onion graders that range in size from 2 to 8 lanes with the ability to run 15 to 70+ tons per hour."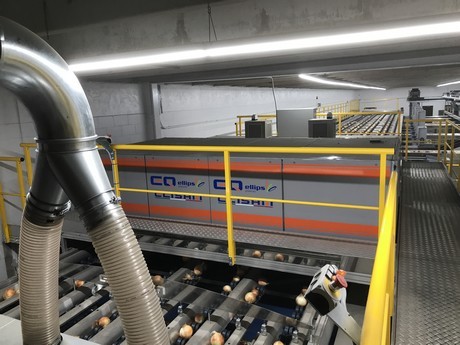 Cameron Skeen, who is the Chief Operating Officer for Baker & Murakami, said that the company was looking to optimize production rates, efficiency and product quality, adding that the new packing line has fulfilled their expectations. "During the planning stage, it was critical to work with a supplier/partner who understood our requirements and could make design and product recommendations that would help ensure we met our timelines and operating objectives," he said. "Due to upgrades and reconfiguration, the facility was not available for equipment installation until May 22nd and we needed to be live by July 25th. Even with these tight timeframes, we were able to meet our goal with the help of Ellips and our other equipment suppliers. We regularly run 70+ tons per hour which exceeded Ellips' commitment and we believe our grading capabilities, including internal defect detection, and operating efficiency is industry leading. Even though, we experienced some of the expected growing pains associated with implementing a new packing line, we were very pleased with the performance and support delivered by the Ellips & Elisam equipment and staff."
Brains behind the equipment

While Ellips touts the quality of their Elisam grader, they also highlight that the single most important component is the software operating it – TrueSort. The software analyzes the quality of the onions, both internally and externally, while tracking each individual onion through the system, ultimately delivering it to the proper exit based on pre-determined grade and size parameters selected by the user. For example, a smaller sized onion will make its way automatically to the appropriate bag, box or bin for that size. This extends to internal quality, where any onion that falls below quality thresholds will be sorted by the machine into the products set aside for processing, for example. This also makes quality audits much easier, as each onion can be tracked and traced through the entire process all the way to the end consumer. While competitive systems exist in the marketplace, Ellips says this system is superior due to the ease of creating grading parameters, grading accuracy, determination of internal quality across varieties and the fact that it is fully automated.
"The Ellips True Sort user interface has been designed to provide maximum control to the user," Albert pointed out. "This means that our customers can quickly and easily modify grading criteria in order to address changes in onion quality, customer types or market demands. The accuracy of our weight, size and external functionality is superior and our internal quality solution is the only system currently available that can accurately detect internal defects across yellow, red and white onion varieties."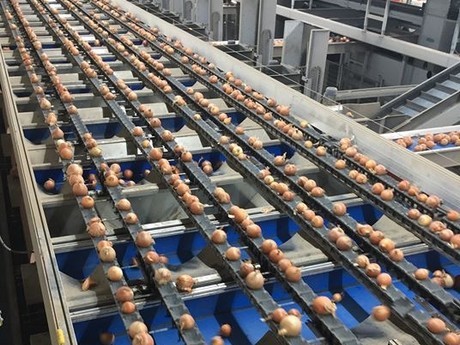 Automating the Treasure Valley
As mentioned at the start, labor challenges, rising costs and greater competition present many challenges for onion growers, not just in the Northwest, but across the United States. The fact that Baker & Murakami is the product of a partnership between two former rivals just goes to show that those in the industry are looking at many options for solutions. Ellips sees the future involving further cost cutting in the form of automation and improved grading. Their contributions to the Baker & Murakami project and other similar projects in the region, gives an insight in what they foresee for the onion industry, beginning in Idaho's Treasure Valley.
"Along with the new grading system at Baker & Murakami, we have also supplied similar systems to Partners Produce and Owyhee Produce during this past season," Albert explained. "Our primary goal is to make certain that our existing customers are maximizing their return on investment. We ensure they are properly supported and trained so that they can effectively use our grading and sorting technology to optimize their operational performance. If we take care of this primary goal, our secondary goal of being the leading providing of grading and sorting technology for the Treasure Valley onion industry will take care of itself."
Future plans

Apart from onions, it is quite possible to use Ellips' sorting technology for other produce items as well. "Depending on size and shape, it is possible to utilize the same grader for different fruits and vegetables," Albert notes. "Even though each commodity has different software grading profiles and algorithms, they can be utilized on the same machine. For example, apples, pears, cherries, blueberries, peaches, apricots, citrus, pomegranates, kiwi and dates can all be analyzed."
Albert concluded by saying that ensuring quality outcomes is what Ellips will be focusing on in coming years. "I forecast an increased demand for 'effective' electronic grading and sorting solutions," he said. "Labor costs and availability are obvious reasons why this technology will continue to proliferate. However, the more compelling benefits may be associated with the quality and consistency of the product that can be delivered to the market. We have seen this same dynamic occur with other commodities where the customer demands the type of quality that might only be achieved through the use of electronic grading. Additionally, our internal quality solution enables our customers to salvage bad lots that previously would have been sent to a processor or diverted for very low returns."
For more information:
John Albert
Ellips USA
Tel: +1 (206) 915-4962
john.albert@ellips.com
www.ellips.com